Sik-e-Dakh Passive Solar, Geothermal Greenhouse
We believe that with appropriate technology and intelligent design we can grow food throughout the year without any energy inputs besides the heat of the sun and the earth.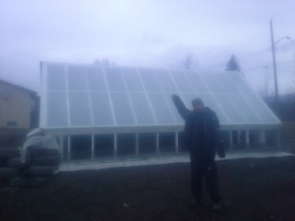 It is a goal of the project to serve as an inspiration of what is possible with intelligent design. On Skeena Energy Solutions first greenhouse, we had a lot of issues stemming from the original design. With this one we wanted to get the design right from the start. Wanting to get away from having complicated systems, this design focused of functional simplicity. This greenhouse is inspired by "earthship" design. It heats itself with the warmth of the sun and the earth. It gathers water for the plants inside it off of it's roof. The design doesn't only focus on the energy used to run the home, but also takes into account the building's embodied energy. Embodied energy is the energy consumed by all of the processes associated with the production of a building, from the mining and processing of natural resources to manufacturing, transport and product delivery. This building excels in the embodied energy department. The foundation and walls are made from recycled tires and the soil from the excavation and the framing is from salvaged and local wood.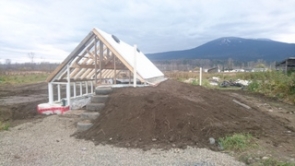 Besides having a great benefit to Sik-e-Dakh's already awesome local food security program, the greenhouse will serve as a great example of what is possible for cold season growing in our harsh northern climate. It will also showcase the possibilities for low impact construction of passive solar and net zero homes. The problem with a lot of modern energy efficient home is that they think only of the running costs of the building and don't take into account the enviromental damage caused to build them. When thinking about sustainability, it is not only the final product and its energy efficiency we have to think of, but also the social and environmental costs throughout the building process. Earthships excel in this area, stressing the use of recycled and local materials.
The Sik-e-Dakh Greenhouse Project is about 75% complete and Skeena Energy Solutions and the awesome volunteers will be putting the finishing touches on the building this coming spring. This summer we will put the new design to the test. But the real test will be next winter...